Phần mềm điều khiển module WF-2000 trên di động ICP DAS WF2000 Utility
WF2000 Utility
WF2000 Utility is a fast and simple utility for testing or controlling ICP DAS's WF-2000 series device as a Modbus client(also called master). It allows you to access the Holding, Discrete and Coil registers of your Modbus devices over Wi-Fi from the iPhone.
| Link | Keyword to Search | QR Code |
| --- | --- | --- |
| | ICPDAS, WF2000 Utility | |
Features
Support Modbus TCP.
Accessing I/O on a WF-2000 module
Support iOS devices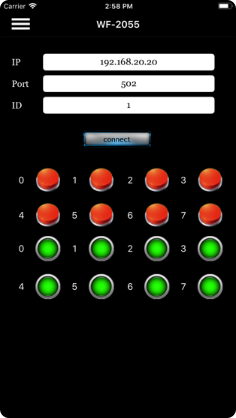 Support modules
WF-2019
WF-2026
WF-2042
WF-2051
WF-2055
WF-2060.