Cleanroom Management System
Cleanroom personnel are an important source of cleanroom contamination. To ensure the cleanliness of the cleanroom, in addition to high standard quality hardware, it also requires a well-designed personnel access control system to guarantee full control of all access attempts. ICP DAS WISE controller is perfect for managing access control and enables remote monitoring and control of all access attempts to the cleanroom in real time.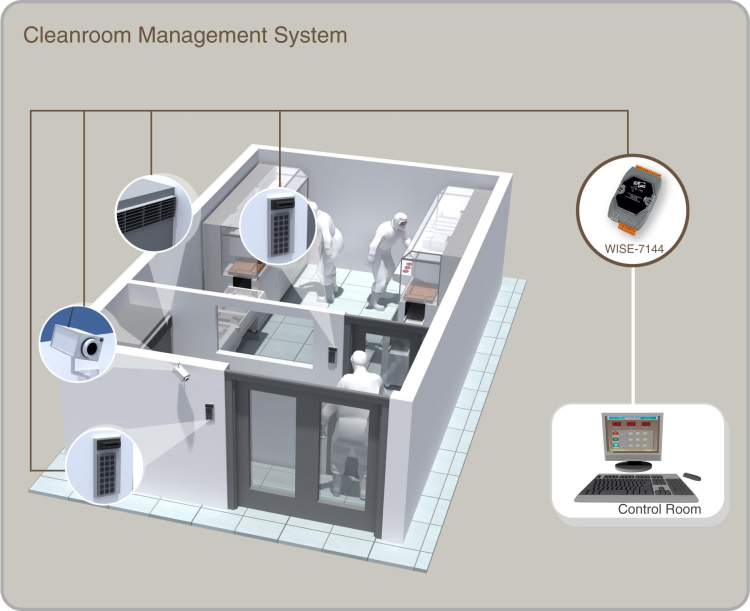 ICP DAS WISE-7144 is equipped with 8 DI and 8DO providing integration with various devices for receiving or sending digital signals. The Logic Rule Engine on the WISE controller enables easy configuration for various management processes. For example, connect WISE-7144 with IP Camera for access control, it allows the IP Camera (via CGI Command sending) to real time record the images of the workers before opening the outer door to the clean zone. After the outer door is shut, the workers enter the clean zone and get in the air shower chamber. At this time, WISE-7144 is able to start the air shower; the built-in Timer function makes it easy to define the shower time interval. After the shower is done, the inner door will be opened for the workers to move from the clean zone to the cleanroom. At the same time, WISE-7144 also allows to connect to the positive-pressure sensor and the access control security system for monitoring all access attempts or space management. WISE-7144 also supports Modbus TCP interface so that the information can be instantly transmitted to the control center and makes real time monitoring of the overall status of the cleanroom more efficiently.
Benefit
WISE controller features IF-THEN-ELSE logic Rule Engine that enables implementing logic configuration via Web Page just a few clicks away, no programming is required.
Support Modbus TCP Protocol that enables seamless integration with SCADA software.
WISE-7144 features PoE (Power over Ethernet) that eliminates the requirement for the dedicated electrical outlets and reduces complicated wiring. With PoE switch, it enables the ability to send electrical power over Ethernet cables.
WISE-7144 controller is equipped with Timer function that enables the evaluation of timeout conditions, and allows to start or stop the Timer.
WISE-7144 controller is equipped with CGI Command function, in response to certain events, it allows to sending CGI commands for enabling the CGI process executions on the remote controllers such as IP Camera.
Related Products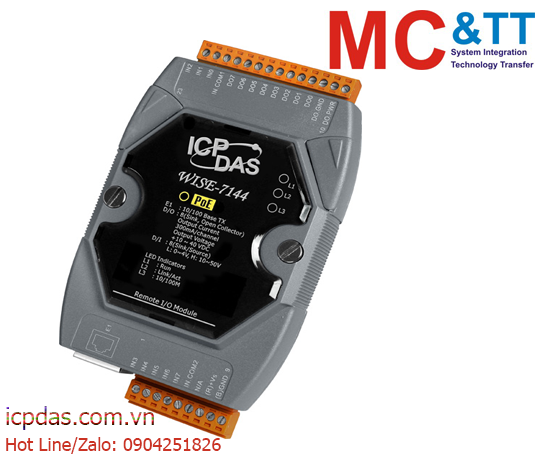 WISE-7144
8-channel Isolated Sink Type Open Collector Output and 8-channel Isolated Digital Input PoE Module