iKAN-116A: High Brightness, Single Row, 8/16-Character
iKAN-124A: High Brightness, Single Row, 12/24-Character
iKAN-208A: High Brightness, Double-row, 4/8-Character
iKAN-216A: High Brightness, Double-row, 8/16-Character
iKAN-224A: High Brightness, Double-row, 12/24-Character

iKAN-116-IP65: IP65 Single Row, 8/16-Character
iKAN-124-IP65: IP65 Single Row, 12/24-Character
iKAN-116A-IP65: IP65 High Brightness, Single Row, 8/16-Character
iKAN-124A-IP65: IP65 High Brightness, Single Row, 12/24-Character
Brightness Comparison for All iKAN Series LEDs
| | A Series | S Series | Standard Series |
| --- | --- | --- | --- |
| Pixel Pitch (mm) | P10 | P6 | P10 |
| Brightness (cd/m2) | Max. 4200 | Max. 2100 | Max. 3400 |
| Scan Mode | 1/4 Scan | 1/8 Scan | 1/8 Scan |
| Power Input | DC 5V | 100 ~ 240 VAC | 100 ~ 240 VAC |
| RoHS | No | Yes | Yes |
All Series Features 
Web-Based User Interface
7-color High Brightness display
Able to store up to 128 messages with priority configuration
Supports multiple languages (Glyphs for Arabic, Indian and Thai alphabets are not included)
168 variables available for displaying real-time data in a text message
Can be remotely controlled via a PLC, PC or smartphone
Supports Modbus TCP/Modbus RTU protocols and CGI command
Able to display indoor air quality indexes from DL modules independently without additional controller
Introduction
The iKAN series is a family of industrial high brightness Modbus LED display devices that deliver industrial-grade anti-noise capabilities as well as reliability and stability. ASCII characters and Unicode characters, which can be used to display multiple languages, are supported for presenting formatted messages. Support for the popular Modbus industrial protocol is provided meaning that iKAN display devices can be easily integrated into existing PLC and SCADA environments. The iKAN series allows data written from a PC or a PLC to be displayed in a formatted message in real-time. Seven colors are available for the text, which can be used to indicate different degrees of importance of the message, and significantly increase the readability of the message in an industrial arena.
Messages can be edited by using a standard web browser (such as Google Chrome, Firefox, or IE, etc.) on a PC, mobile device, or smartphone without specific control tools or programs. The display of individual messages can also be remotely enabled or disabled by using the same standard web browser as required. Each model in the iKAN series provides storage space for up to 128 messages with priority configuration. In addition, 168 user-defined variables allow data on a PC, PLC or other controller to be automatically integrated into a message and then displayed. With an open user interface and the ability to display real-time data, the iKAN series display devices can be installed in a variety of indoor spaces, including shopping malls, railway stations, and industrial areas.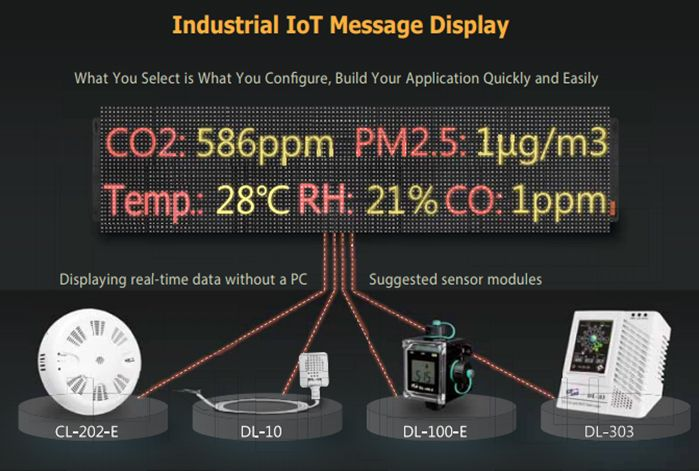 Application
Assembly Line Machine Information Display
The iKAN display can be employed as a large HMI with a memory storage of up to 128 messages, each of which can be used to display information generated by a remote controller. A range of seven colors is available for the text, including red, blue, yellow, green, light blue, purple and white, which can be used to indicate warnings or alarms, as well as increasing the readability of a message.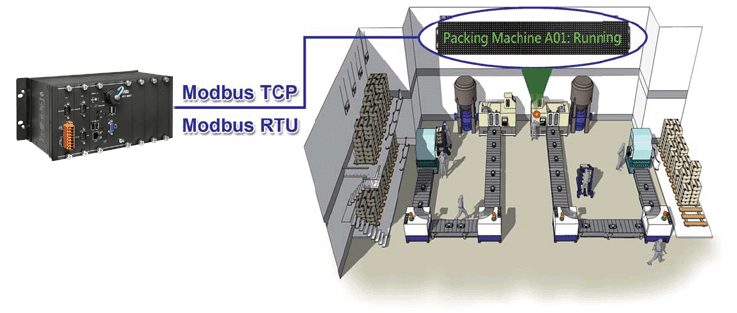 Indoor Air Quality Display
The iKAN display can be used to directly read indoor air quality monitoring data from an external DL-302 module, including the carbon dioxide level, temperature and humidity, and then display the information in real-time, making it suitable for commercial and public buildings, such as schools and museums, as well as for retail, leisure and healthcare facilities where personnel are required to stand for long periods of time, and where the indoor air quality is required to be monitored and displayed at the entrance or lobby of the building.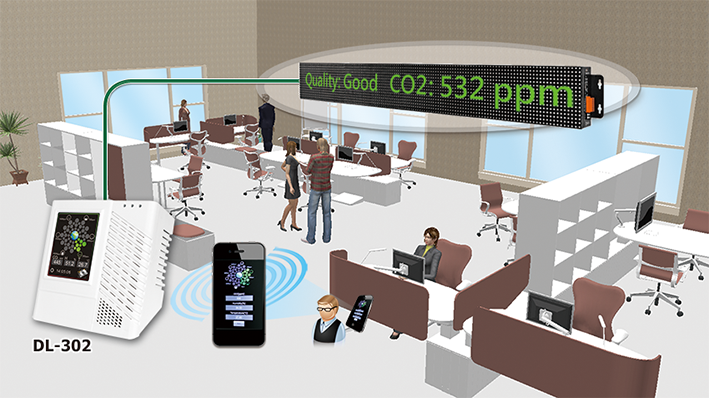 Ordering Information
| | |
| --- | --- |
| iKAN-116A | Single Row, 8/16-Character, Industrial High Brightness LED Display with Web-based User Interface |
| iKAN-124A | Single Row, 4/8-Character Industrial High Brightness LED Display with Web-based User Interface |
| iKAN-208A | Double-row, 4/8-Character Industrial LED High Brightness Display with Web-based User Interface |
| iKAN-216A | Double-row, 8/16-Character Industrial High Brightness LED Display with Web-based User Interface |
| iKAN-224A | Double-row, 12/24-Character Industrial High Brightness LED Display with Web-based User Interface |
| iKAN-116-IP65 | Single Row, 8/16-Character, IP65 Industrial LED Display with Web-based User Interface |
| iKAN-124-IP65 | Single Row, 12/24-Character, IP65 Industrial LED Display with Web-based User Interface |
| iKAN-116A-IP65 | Single Row, 8/16-Character, IP65 Industrial High Brightness LED Display with Web-based User Interface |
| iKAN-124A-IP65 | Single Row, 12/24-Character, IP65 Industrial High Brightness LED Display with Web-based User Interface |
For more information, please visit the following website:
https://icpdas.com.vn/ikan-led-message-display/