Module Ethernet Modbus TCP điều khiển chuyển động 4 trục (4-axis) tốc độ cao ICP DAS ET-M8194H
The ET-M8194H is a new product from ICP DAS that can be used to implement remote control functionality via the Ethernet and includes an I-8094H module (a 4-axis stepping/pulse-type servo motor control module with an embedded CPU) and an Ethernet communication interface. The intelligent ET-M8194H can provide users with the ability to develop a wide range of remote motion control applications, and can be integrated in any system where the host platform is built on the Modbus TCP protocol (for example: PC, PAC or PLC). In addition, implementing a multi-station, multi-axis motion control solution can easily be achieved by cascading several ET-M8194H devices using Ethernet cables, either with or without Ethernet switches. ICP DAS also provides the EzMove Utility and an API Library that can be used to configure the ET-M8194H and to rapidly develop customized control applications.
• EzMove Utility
EzMove is a configuration utility developed by ICPDAS for the ET-M8194H controller. It is intended to perform motion control tasks and movement test on equipment without the need to first create customized applications. As the EzMove Utility is a Modbus client, it can be used to create and edit Macro Programs (MP), which can then be uploaded to the ET-M8194H. The EzMove Utility can also display and plot position/velocity of all four axes as well as display Modbus TCP messages for easy reference.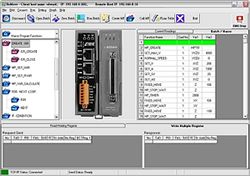 • API Library
The ET-M8194H API Library is composed of nine groups of functions, which can be utilized to edit Macro Programs (MP) and send Modbus TCP commands required to control or configure the I-8094H. The library provides users with the ability to simultaneously control a large number of ET-M8194H from the PC. DLL and libraries for the following development environments are provided:
• Visual C++
• BCB 5.0, 6.0
• C#, VB.NET
• Visual Basic 6.0