In factories, most facilities and devices involved are all subject to overheating damage. From improper site wiring, lightning strikes, to overrun motors, a wide variety of overheating issues threaten systems and peripherals constantly. To ensure the safety of personals/devices, eliminate unnecessary machine downtime and achieve maximum productivity, it is necessary to build an automated system that enables real-time monitoring and disaster prevention.
WISE controller provides a total solution for disaster prevention/monitoring system that will detect temperature for various devices in the factory in real time. It also enables communication between devices that will initiate immediately actions in response to emergencies. For example, in response to pre-set critical temperature threshold, the system will take actions such as auto-stop the devices, turn on the temperature reduction devices, and send alarm notification to the related personnel. WISE controller also support Modbus and IoT protocols so that information can be instantly transmitted to the control center and makes response to emergencies and real time monitoring of the overall factory operation more efficiently.
Benefit
WISE controller features IF-THEN-ELSE logic Rule Engine that enables implementing logic configuration via Web Page just a few clicks away, no programming is required.
Support Modbus TCP Protocol that enables seamless integration with SCADA software.
WISE-7118Z features PoE (Power over Ethernet) that eliminates the requirement for the dedicated electrical outlets and reduces complicated wiring. With PoE switch, it enables the ability to send electrical power over Ethernet cables.
WISE-7118Z is equipped with AI channels that allow individual inputs of voltage, current, or thermocouple, it also features 240V AC high-voltage protection.
Related Products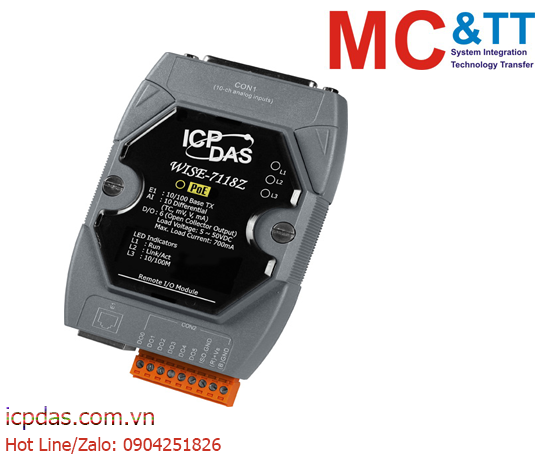 WISE-7118Z
10-channel Thermocouple Input with High Voltage Protection and 6-channel Isolated Output PoE Module